An update regarding the COVID-19 Coronavirus Pandemic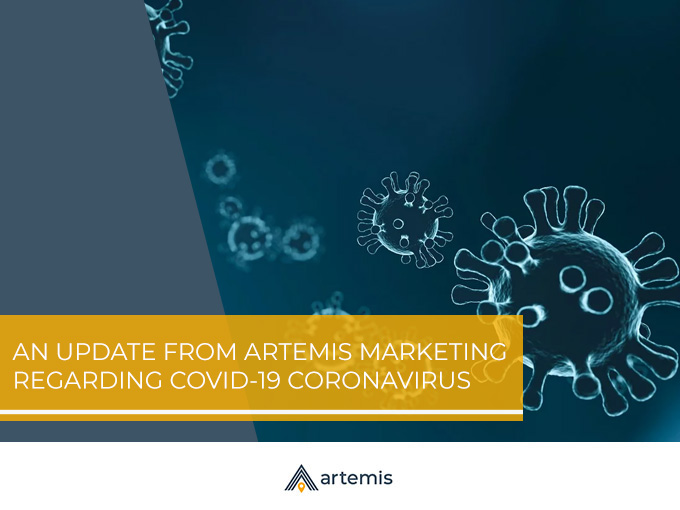 Ensuring the highest quality of service to our clients is at the core of what we do at Artemis. Over the last few weeks we have been taking very comprehensive steps to ensure continuity of our services, and that the health and wellbeing of both our staff and clients is safeguarded.
On Tuesday 17th of March the entire Artemis team will be working remotely. This is to test that our systems and processes can continue to work just as well, with every staff member working elsewhere. We are confident that we can continue to work effectively whilst not being physically present in our offices.
Our incredible operations team have been working hard on implementing increased general hygiene recommendations, remote working procedures for staff returning from holidays abroad and ensuring that our systems are ready and robust enough for the entire team to be remote. We have been following and applying the guidance provide by Public Health England. In addition to this we have implemented new policies to protect our staff, and would like to ask that our clients and suppliers work with us and report suspected or confirmed COVID-19 cases to us if an Artemis Team member has recently visited their offices. We will also be moving from in-person meetings to audio and video conferencing with our clients.
We are assuming that the Coronavirus situation will get worse before it gets better, and we are ensuring we are completely prepared regardless of how the situation develops.
It's business as usual here at Artemis whilst we do what we can to help stop the spread of this awful virus.
If you have any questions about the measures we are putting into place at this time, or how we can help with any urgent web amendments, informative blog posts for your customers or email campaigns to communicate your own plans then please do get in touch.