Artemis is Now Accredited by the Good Business Charter!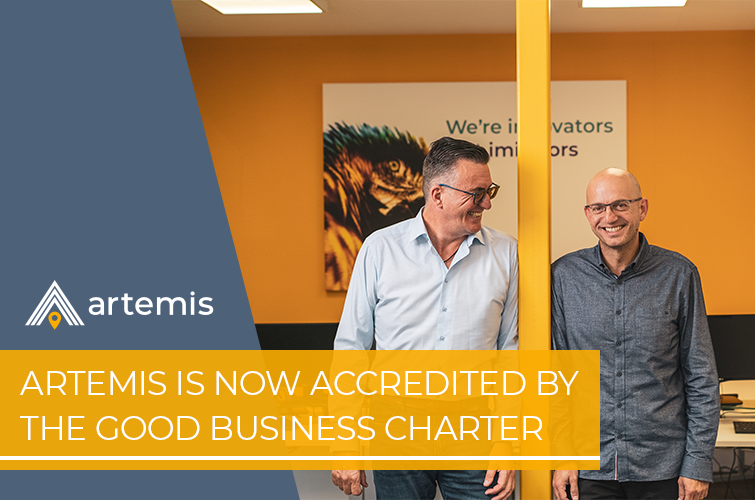 We are over the moon to announce that Artemis is now accredited by the Good Business Charter. To be recognised by this organisation is a testament to our ongoing commitment to ethical, responsible and sustainable business practices.
For those that don't know, the Good Business Charter is a non-profit organisation that works diligently to transform how UK businesses can adopt high – and importantly, responsible – standards.
The GBC measures core components from real living wage and employee well-being to equality, diversity and inclusion, and environmental responsibility.
Companies that meet their criteria operate with transparency, fairness and accountability while also driving positive change. For the GBC to certify and accredit us as an instigator of positive change is truly incredible.
At Artemis, we've always taken great pride in fostering a positive, respectful and inclusive company culture where our employees feel valued, comfortable and invigorated to thrive. We believe our team members are our greatest assets, and we take great pride in supporting them with initiatives like flexible working, extended family leave and continuous learning and development, among many other benefits.
The fact that the GBC also recognises our high standards and commitments in the same way is very gratifying. It also, in our minds, fuels our resolve to always question how we can improve and be better. While this affirms that we are on the right path, this journey is only just beginning for us, and it's up to us to build on this achievement.
We believe that this accreditation speaks volumes about our team's ethos and character. However, complacency and resting on our laurels are not options for us – we want to lead by example and continue to develop, refine and improve how we invest in and nurture our valued team, but also demonstrate actionable and responsible change in the future. As an agency, we are thoroughly committed to positively impacting our community and industry through the choices we make every day.
Thank you to the Good Business Charter for this honour and to all who have supported us along the way. Here's to the next chapter of change and progress together!