Artemis Marketing to Renew Sponsorship of Hurstpierpoint FC
Corporate social responsibility is something we take very seriously at Artemis. Our business model is based upon supporting local businesses, and this extends beyond the services we offer.
That being said, Artemis is delighted to announce that we have renewed our sponsorship of our local football team, Hurstpierpoint FC for the 2021/22 season!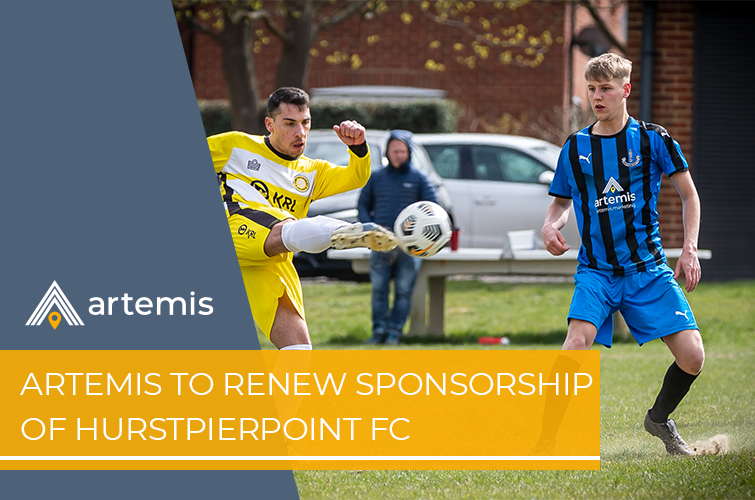 The Story So Far
Hurstpierpoint FC had a fantastic 2018-2019 season. Their 1st team finished top of the league and were promoted out of Mid Sussex Football League Division 1 into the Championship League. They also lifted the Edgar German Cup for a second successive season, winning 3-1 against their opponents, Chagossian & Mauritian Association.
Unfortunately, after such a successful season, the restrictions imposed by Covid-19 resulted in a disjointed couple of seasons on the pitch – something felt across all tiers of English football.
Ed Bartram, Club Development Manager for Hurstpierpoint FC, was keen to iterate that despite grassroots football coming to a halt, enthusiasm from the club had far from waned.
In fact, off the pitch, Hurstpierpoint FC has continued to thrive.
The club created a 3rd senior side head of the 2020/21 season alongside an additional under 17's side to fulfill the demand for places in the youth team.
And it is not just youngsters who are getting their football boots on. Since December 2020, the club has also started Walking Football sessions for players aged 50+ which have had a fantastic reception so far.
Back to the Pitch
After a long break, matches in the Mid Sussex Football League restarted at the beginning of April. With five sides in action, games are coming quick and fast for the club as they conclude the 20/21 season.
A fantastic team performance from the 1st team earned them 3 points in their most recent match against Peacehaven & Telscombe II, finishing 3rd overall and securing their place in the Mid Sussex Championship league for another season.
Since returning to the pitch, Hurstpierpoint FC's reserve team has had an impressive run of form, winning 5 out of 7 games with one game left to play.
There is also a lot to be pleased about with the club's 3rd team. Although results from their most recent fixtures have not always gone their way, this promising younger team has repeatedly put in solid performances and held their own against more experienced teams.
Looking Forward
The club is now concentrating on restarting what they hope to be a more 'normal' season come September with a bang.
We are enormously proud of the determination shown by Hurstpierpoint FC, who, despite the disruptions, have remained dedicated in training and returned to the pitch full of optimism.
Here's hoping as more fans return to the sidelines, that we will be in for a fantastic 2021-2022 season. Come on your Blue Dogs!