How we Optimised a Therapist's Google Business Profile to Increase Online Traffic
At Artemis, we focus on achieving fantastic results for our clients. If the goal isn't return on investment, the SEO isn't worth doing.
We are also very proud of the work we do and the companies that we have helped to grow and increase their leads and revenue.
To illustrate this, we would love to share the story of a local therapist who became a client in the summer of 2021.
How it Started
In June 2021, when the therapist chose us to help them with their SEO, we took a close look at their local search performance and rankings. Over the course of that month their Google Business Profile (GBP) listing was viewed 7650 times in the search results, and it generated 271 clicks through to their website.
28 of their key local search terms were ranking somewhere between positions 4th and 20th. Crucially, this meant that the business was not ranking in the 'local pack' that Google features above the organic search results.
We knew that if we wanted to see the best possible results, we needed to increase their local visibility by optimising their GBP to ensure that the website was visible in the local pack for more of their key local search terms.
We identified their key local search terms as:
• chiropractor near me
• physiotherapy near me
• sports massage near me
• physiotherapy Worcester
• osteopathy Worcester
• chiropractor Worcester
What We Did
To maximise the success of their GBP, we took the following steps:
• Audited their profile to understand their current performance in the local search results vs those of their competitors
• Wrote a new GBP company description fully optimised for local terms
• Added relevant services (i.e. Physiotherapy, Chiropractic, Osteopathy) complete with optimised descriptions
• Created a campaign of ongoing GBP posts for company updates and to create freshness signals
• Added products to the listing, complete with the name of therapy, therapist, description, price and link through to the relevant pages on their website
A Brilliant Success Story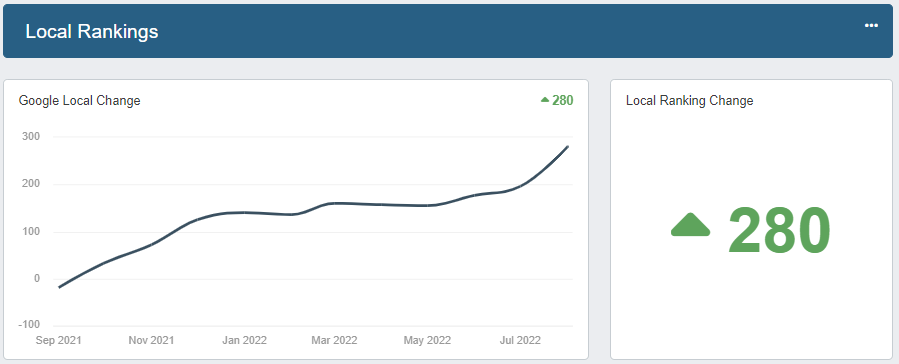 The work on their listing has been a fantastic success.
In the first year since optimising their GBP listing, we've increased their local rankings by 1158%. This client now ranks between 1st and 3rd for 26 of their key local search terms. This means they now frequently rank in the 'local pack' above the organic search results.
In August 2022, their profile was viewed 9588 times in the search results (up 34% YOY) and generated 365 clicks through to their website. In the same month, we recorded their best ever performance to date for traffic levels and goal completions.
This reiterates that having a well-optimised GBP listing is a highly effective strategy for driving relevant, local traffic to local business sites.
If you are looking for SEO services that really work, Artemis has a proven track record of helping local companies increase their rankings, increase their profit, and grow their business. Get in touch with our experienced team today to learn more about the range of expert SEO services that we can provide.