Panda, Penguin, Possum – What's what?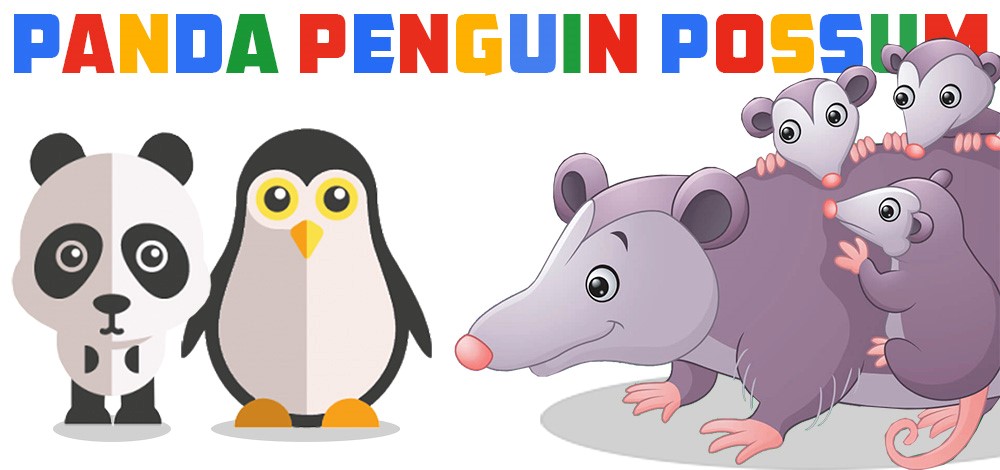 September was a bit of a manic month for SEO, with the new Google update named Possum affecting the local search results as well as Penguin going real-time in the algorithm. In this blog, we will go over three of the most important recent updates in the SEO industry and establish what they are doing to your search rankings.
Panda
Panda was first launched in February 2011 (hitting Europe around March 2011). It was one of the biggest and most significant Google updates to hit, with up to 12% of Google search results being affected.
The Panda update was introduced to stop websites with poor quality content from ranking at the top of the Google search results. It forced webmasters to focus on quality rather than quantity.
How to avoid tripping the Panda filter?
Don't use duplicate content – Using content that already appears on another website is one of the ways you can get hit by the Panda algorithm. Google will only rank the original source, so this will have no benefit to your website.
Don't write thin content – We often see thin content on websites; this is when a page is only a couple of sentences long. This is unlikely to rank and will only end up causing you issues.
Ensure the content is in the website's native language – Outsourcing content can seem like a quick and easy way to get content up on your website, but remember, well written content isn't cheap. There are plenty of websites out there that offer content for £5 or less, but the chances are they will be provided by people whose native language isn't English. Look for writers based locally to you who can provide you a better service.
Write quality content – Really it all comes down to this: write good quality content for the user about topics that provide value and information to the people who visit your site.
Penguin
Google launched the Penguin update in April 2012. It affected around 3.1% of search queries. There have been multiple updates since then and it is now part of the core algorithm. It was created to lower the rankings of sites that were using tactics such as creating spammy backlinks, buying links and using private blog networks.
Google introduced the disavow tool in October 2012 which allowed webmasters to tell Google which links to ignore. So if you had undertaken any unnatural link building, you could basically say sorry to Google and upload a list of bad links. This only affected a site hit by Penguin when the update refreshed which, up until recently, was over two years ago, so lots of webmasters were waiting for a while for this to take effect.
In September of this year, Google announced that Penguin was now part of the core ranking algorithm, and they wouldn't be stating anymore updates around Penguin.
What does this mean for webmasters and SEOs?
Google will now automatically discount low quality and spammy backlinks without a disavow file in place (although they are saying you should still disavow bad links).
Any new links built to a website will now have a near immediate effect on a website's ranking; no more waiting a few weeks for the algorithms to refresh!
Possum
Possum is a name given by the SEO community to the update at the beginning of September 2016 that affected local SEO.
The Possum update changed the boundaries by allowing businesses that were based outside of the town or city's location to rank for a local term. It also started to limit the number of results shown per address. So, for example, if you are a solicitor with many different departments verified in Google My Business, Google may choose to only show one of these in the results.
It is also limiting the way virtual addresses are shown, as many businesses will use the same address to try and get exposure in a location where they don't have a physical office. The good thing about the new update is that there isn't as much of a need to try and trick Google now as they can show you in the results for a town close to your office.
If you need any more information, or have been affected by Panda, Penguin or Possum, then give us a call for a chat – 01444 645018