Penguin Is Finally Here And It's Real…Time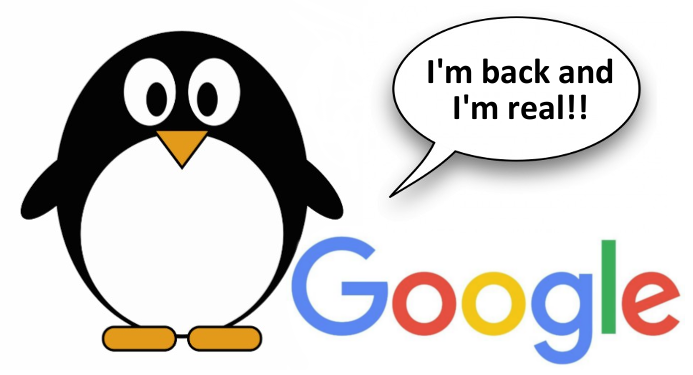 After a very long two years, Google has finally released its latest version of the Penguin algorithm but this time it's a little different, as announced on the Webmaster Central Blog today.
Traditionally major updates such as Panda and Penguin have been run in isolation, separate to Google's main algorithm, often resulting in quite significant impacts on the search results.  Websites affected by these algorithms would remain supressed in the search results until they were refreshed and the sites found to now adhere to Google's Webmaster Guidelines.
Last year Panda was integrated into the main algorithm and now Penguin has been too, meaning it runs in real-time. The main benefit of this is that a website affected by Penguin will not need to wait another two years before it can recover; it can recover as soon as the spam is fixed and Google detects that that is the case during its normal crawl cycle.
But, by far the biggest change to Penguin is on its actual impact on a website.
With previous iterations, a website flagged by Penguin as having a spam backlink profile would cause the entire website to lose rankings, even if the links were all pointing to one page or were all focused on a specific key phrase.
Today, Penguin appears to be more granular.  This is how Google expressed it in their blog post:
Penguin is now more granular. Penguin now devalues spam by adjusting ranking based on spam signals, rather than affecting ranking of the whole site.
That sentence could actually be interpreted in several ways but if they've listened to webmasters over the last two years then we can interpret it as follows:
A specific page is devalued if it's deemed to have too many negative spam signals, such as keyword heavy inbound links, links from low quality sites (bookmarking, forum profiles, etc) or links from known private networks. The page may be penalised if it's deemed that the spam was created intentionally and cannot be recovered until the links are removed or disavowed completely
A specific page is devalued by ignoring the links Google deems should not be passing pagerank to it, especially from low quality sites. The page is not penalised as it could have been subjected to a spam attack and can be recovered with new fresh, good quality links
The entire website is devalued if a significant portion of the backlinks are spam and are all pointing to the home page. The whole website loses value because the home page is generally the strongest and passes the weighting down throughout the website.  Removing bad backlinks and disavowing them can go some way to aid recovery
The severity of Penguin is now greatly reduced and quicker to recover from. This is of particular importance to any business that has suffered from negative SEO or whose SEO company has used underhand ranking techniques
Over the last three weeks there have been some significant movements in the search results; no doubt this was Google testing out the new Penguin algorithm.  At least it now means that the fluctuations should settle down and that those businesses that were impacted severely two years ago may now be in a position to rebuild their trust in Google and regain their rankings and traffic again.
A real-time Penguin is a friendly Penguin….finally!