SEO Insights: April 2023 Report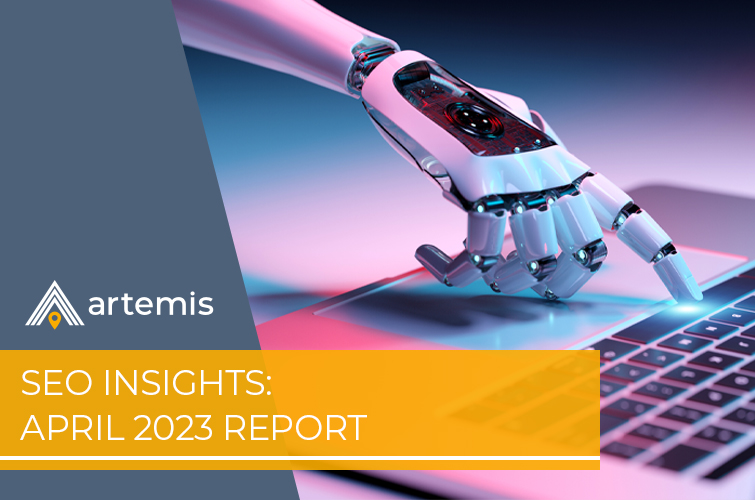 As is typical every month now, most of the SEO chatter online is regarding AI and its impact on search. If anything, it's become overwhelming as new AI tools are released every month. In fact, in March there were over 1,000 new AI tools released, covering all sorts of real-world applications.
It's impossible to stay on top of them all and there's no real need to. Most do similar things and the majority aren't as helpful as they seem.
In marketing and search, we are personally exposed to the effects of AI, and the impact seems very real viewed from inside our industry – but out in the real world, things are a little different.
Since Bing launched its AI chatbot in February, the expectation was that this was Bing's moment to make a dent in Google's dominance in search. The reality is somewhat different.
We analysed the traffic to our own various websites over the last couple of months to assess if Bing was now driving more traffic than previously. The results were very mixed, with some sites showing some increase whilst others showing a decrease. However, as the overall traffic from Bing is still relatively low, these changes in traffic are quite insignificant.
Therefore, although we may be concerned about how AI tools may impact search, it's certainly not being adopted by the masses on a daily basis.
How often do you use an AI chatbot to query something? I would bet that it's very infrequent, if at all. Things will change over time, but at the moment, things haven't changed much from a typical user perspective.
Annual Webspam Report
Google released their annual webspam report in April, and as expected, they are doing an increasingly better job at detecting and addressing the huge amounts of spam on the web.
These days it is quite rare, although not impossible, to find some spam sites in the search results. What we are finding, and is going to be become a significant problem, is the amount of "ok content" in the search results which has likely been written by some AI.
This is generally not deemed to be "helpful content". As a user, you want to read a useful review, written by someone who has actually used the product or service, or read about a holiday destination written by someone who has actually been there.
This is the area where, as SEOs, we need to focus more than ever. Working with clients to ensure that their content is exceptional, accurate, and helpful is what's going to make it stand out from all of the noise in search. Especially as this noise is just getting louder.
Page Experience
Continuing with the theme of helpful content, Google updated its helpful content guidelines to a include a section about page experience. They have since stated that page experience is a ranking factor.
Page experience is essentially focused on ensuring that the user has a positive experience when visiting a web page. This can include things such as security, good core web vitals (fast page load speeds, elements not moving around whilst loading, etc.) and not being overwhelmed by ads.
Although relevancy and content quality will always likely overrule page experience as ranking factors, it's still a good idea to ensure that users can interact safely and quickly with a web page, as this tends to be rewarded with increased conversions.
There has never been a time where content quality, authority and user experience have been so important to search. With so much noise online it's critical to be exceptional and useful.
At Artemis, we are always focused on ensuring that our clients' websites are set up to filter out the noise and be the ultimate websites that Google wants to return to its users. It's always been our ethos and we've helped hundreds of businesses over the years to succeed online. We're entering a new era in search, and we'll continue to ensure our clients are perfectly positioned to maximise the new opportunities.