SEO Insights – December 2020 Report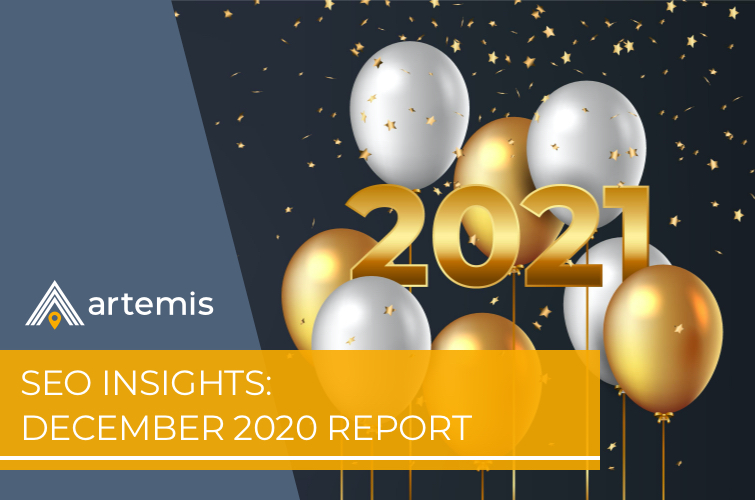 As we bid a fond farewell to 2020, there is much to reflect upon and even more to look forward to in 2021.
2020 was truly like nothing most of us have ever experienced and for most businesses, their positive plans at the beginning of the year will have taken a significant deviation.
However, here at Artemis we never spend much time looking back. Our focus is, and always has been, on looking ahead, planning and implementing what we have to do with our clients' online presences to best position them going forward to stay ahead of the competition as algorithms evolve, shopping behaviours change and people adapt to a "new normal".
Before we look at ahead to what's in store for 2021 there are two key items of news to discuss from December 2020 first:
1 – Google Core Algorithm Update
It was a big one…and really quite bad of Google to launch it at such an important time for businesses when many might have already suffered a very tough year because of the pandemic.
Nevertheless, they rolled it out over two weeks and it generally changed a very high number of search results.
A core update is defined by Google as:
Several times a year, we make significant, broad changes to our search algorithms and systems. We refer to these as "core updates." They're designed to ensure that overall, we're delivering on our mission to present relevant and authoritative content to searchers.
We have compiled our initial observations of this update and it appears to have impacted websites in different ways.  However, there are two main areas where we have witnessed significant impacts:
Internationalisation
Page keyword relevancy
We will send more details to all of our clients shortly on these findings and what it means in terms of the resultant focus over the coming weeks and months.
2 – "Request Indexing" Tool is Back
Google removed this useful tool a few months ago but reinstated it in Search Console in December.
This tool is very useful for getting new and updated pages indexed quickly and also for testing the effects of on-page changes.
It appears that Google engineers had not envisaged SEOs using the tool to try and reverse-engineer elements of Google's algorithm and that's ultimately why they removed it.
Although it has been reinstated it's not quite the tool it was before. All submissions are no longer guaranteed to be reindexed immediately (if at all) and we are assuming at this early stage that they will also have updated it to only reindex pages that have had significant quality changes made to them and not just any minor changes.
We will be testing this during January and adapt our use of the tool accordingly.
Now, looking ahead and what's in store for 2021, there are two milestones from Google's perspective:
1 – Mobile-First Indexing – March 2021
Although Google has been transitioning indexing to the mobile version of most websites for some time now, for many websites that are still not mobile-friendly, Google has still been crawling their desktop version.
The original plan was for mobile-first indexing to be enabled for all websites from September 2020, but this was pushed back to March 2021 to give more businesses time to prepare their websites accordingly due to the pandemic.
Therefore, as of April, Google will index the entire internet from a mobile perspective. It's quite a key milestone and a reflection of just how mobile search focused the internet has become.
2 – Page Experience Update – May 2021
This new update that is being rolled out by Google in May is part of their ongoing mission to make the web a fast, secure and pleasant experience for all users.
Whereas traditionally ranking factors have been based on on-page elements (titles, meta tags, content, etc.) and off-page signals (backlinks, citations, etc.), this new update also takes into account how friendly and easy to use pages are for users.
There are seven key areas that all play a part in the Page Experience Update of which three are recent metrics provided in Search Console called Core Web Vitals:
Loading (time) – Core Web Vitals
Interactivity – Core Web Vitals
Visual Stability – Core Web Vitals
Mobile Friendly
Safe Browsing
HTTPS
No Intrusive Interstitials
As with what normally happens with the introduction of new ranking signals, such as the mobile page load speed ranking factor and the HTTPS boost, it's likely that this update will not be a significant overall ranking factor initially. Over time it is likely to increase but ultimately, Google still needs to return the most relevant results for a search query, and that may still not be the fastest or smoothest loading page.
However, over the coming weeks we will be working with all of our clients to ensure that their websites are brilliantly prepared for when this update rolls out in May.
Looking Further Ahead
It is difficult to predict what other surprises Google will throw at us in 2021 but if there's one thing that's guaranteed is that there will be plenty of them.
It's what we love about what we do. The uncertainty, the constant need to be testing new ideas, predicting the evolution of search and online user behaviour and working with our clients to anticipate the changes we need to make to keep them ahead of the competition.
As we have been delving into the effects of Google's December Core Update, it has only reinforced the strategy we've been implementing for our clients for years, and that's to focus on the user (speed and structure), quality targeted content (on-page optimisation) and backed up by authoritative and relevant third-part references (off-page optimisation).
There are no shortcuts. SEO is becoming increasingly technical, complex and time-consuming, especially with so many more businesses focussing more of their efforts in 2020 on their websites, organic search rankings and their overall online presence as shopping behaviour has increased online as a result of the pandemic.
2021 brings with it huge opportunities for our clients who have a strong head start over a lot of their competition and they are in strategic positions to benefit from the increase in online search activity. There have been a lot of lessons learned in 2020 and these will be benefiting our clients in 2021.
We look forward to working with all of our clients this year to make it a very successful and positive experience despite the global uncertainties still ahead.