SEO Insights: December 2022 Report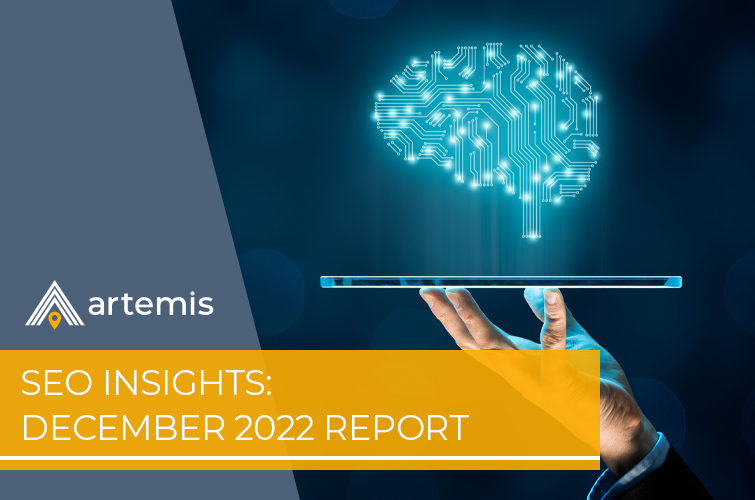 Happy New Year!
As we commence the new year, it's a great time to look ahead at what 2023 may have in store for us from an SEO perspective.
A quick look back at 2022
There were two stand out moments in 2022. Firstly, Google launched a series of significant updates, such as core, spam, product reviews and helpful content updates, alongside smaller updates, and general changes to the user interface.
Some of the updates, such as the core and spam ones, were noticeably impactful as Google continues to try and improve the quality of the search results.
Secondly, last year saw the huge rise and interest in AI tools such as GPT-3, ChatGPT, Dall-E and many others. These tools can quickly and easily create content and images. This now presents a new 'spam' problem for Google as well as possibly even forcing Google to reconsider its business model. Who doesn't want quick, easy answers and helpful advice on tap? The AI tools deliver this, although they are far from perfect yet.
So, whilst we saw Google increasingly tackle spam, at the same time we have probably seen the beginning of a disruptor in the search market.
Looking ahead
Ever since Google launched in 1998, and its usage exploded in 2000, it has had to fight spammers who understood the fundamentals of its unique PageRank algorithm and realised the benefits and opportunities that Google traffic could deliver.
Since its inception, content spam and link spam have been at the forefront of Google's Web Spam team. There are many other types of spam, such as cloaking, hidden content, fake reviews, and much more, but possibly the greatest challenge that has now presented itself is the use of AI generated content on websites.
The rise of the robots
Google does not want to show AI content in the search results, it doesn't know if it's accurate or trustworthy. The problem is that it's often very difficult to tell if it's been written by a human or a machine; it is very good a lot of the time. And it's just going to get even better over time!
This has presented Google with a new challenge, and one which initially seems difficult to address. However, one thing is for sure, Google engineers will already have been working on this for some time, and with the recent spam updates we have seen some websites, with excessive AI generated traffic, lose all traffic overnight.
Additionally, Google is unlikely to directly compete with the AI tools in the way that they respond to prompts. Google's current business model requires a search page with a list of results. This is how it generates its vast revenues.
However, what we may start to see is that queries may be answered in more depth with a larger focused on featured snippets, which is the top results which Google will often highlight as the result which answers the user's question.
Featured snippets are going to be even more beneficial and lucrative in 2023.
Is AI content ethical?
There is a level of discord amongst the search community online, and content writers in general about AI tools as they are essentially using other people's content, re-wording it and creating new content with no accreditation to the original source or sources.
It seems somewhat unethical to do this. It's a form of plagiarism in an AI world. AI tools are not going to go away, but there will be an increased level of frustration from website owners and content writers who have put in a huge amount of time to create the content for their website, only for an AI to take it and 'spin' it into a new version.
Authorship and expertise
This is the area where we see the most change coming in 2023, both to improve the quality of search results and to tackle the issue of AI generated content.
Google's quality rating guidelines have always focused on the need for websites to have E-A-T:
Expertise
Authoritativeness
Trustworthiness
However, in December, Google added another 'E' which stands for experience. So, the acronym is now E-E-A-T.
Google is looking to understand and reward content created by people who know their subject matter, that are known in their field, that have a level of trust and authority to support that.
Who are you?
Why should I trust you?
What makes you an expert in this field?
Have you actually tried the products that you are talking about?
These are just some of the questions that content creators and business owners need to be asking themselves and prioritising these signals on their websites.
The internet has grown to nearly 2 billion websites and counting. There's a lot of noise out there. To stand out and be heard, the focus has to be on ensuring that Google can trust who you are and that you know what you are talking about. Be open and transparent, make the team in your business one of the main features of your website.
This is one of the key ways that Google will tackle the AI content issues in 2023 and going forward.
Accelerated changes
We are now entering a new phase where everything is changing very quickly in search. From an SEO point of view, it's important to be prepared and be well positioned for when these updates to search take effect.
At Artemis, we spend a significant proportion of our revenue on R&D in order to be well prepared and set up for each new phase in search. We apply this to our clients' website so that they are always in the best position to take advantage of the changes as they happen.
We will have to accelerate the implementation of new ideas to websites in 2023; it's going to be a busy one!
We wish all of our clients a very prosperous 2023! Exciting times ahead.