SEO Insights: February 2023 Report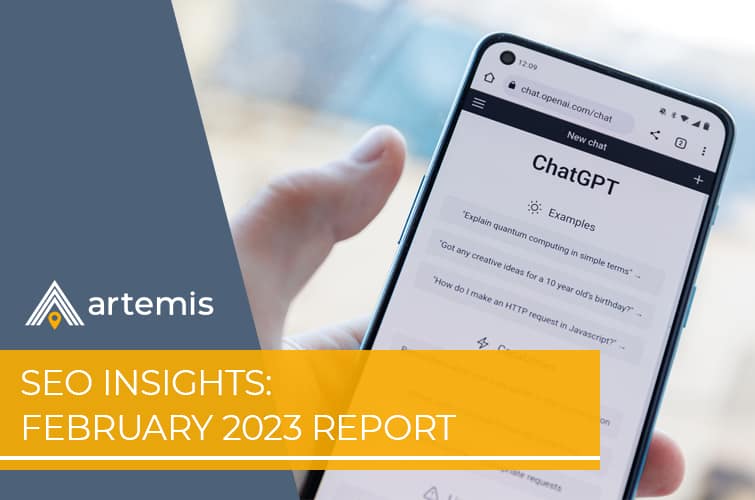 February was a busy month in the world of search. Bing (the Microsoft search engine that you probably don't use that often) released it's much anticipated AI Chat facility. There is a waiting list for access to this new chat but a few of us at Artemis already have access and have been having a play around with it.
It is mighty impressive! Despite several reports of Bing Chat getting a bit nasty with users, and Microsoft now limiting how many follow up questions you can ask it in any one session, it's really very helpful and delivers very impressive results.
Bing has integrated the chat as a separate feature to the search results themselves, which is possibly different as to how Google will do it. Initial screenshots of Google's soon-to-be-released AI Chat rival, called Bard, appears to show it much more integrated as part of the search results.
We will have to wait and see how that ultimately gets implemented.
SEO is dead… again
The "SEO is dead" comments surface every time there is a significant change in online search. As SEO becomes more challenging and complex, those who can't keep up start to claim that this is the end of SEO. We've heard it so many times in the past.
In this new AI era, there are new challenges and there are also new opportunities. We've spent a significant amount of time and money over the last few years understanding how AI is impacting search, so it's what we've been expecting and working towards. Yes, search is going to change but it's not going to happen overnight.
AI tools are just not good enough yet. Search engines are trusted to deliver reliable results, and until these AI tools can be fully trusted (we are very far away from this), there will be a gradual integration of this functionality into the search results.
SEO is very much alive and well, it's just changing very fast.
More updates
In February there were a couple of major updates. One was the new Product Reviews Update and the other was unconfirmed. The latter was noticeable on the impact that it had across the search results in general, although Google did not confirm that any significant update to its algorithm had been implemented.
It is normal for unconfirmed updates to be quite noticeable, although Google has previously stated that they don't understand why as there haven't been any significant updates from their point of view.
Either way, the two updates caused a significant amount of movement in the search results and, as usual, we can expect a lot more of this going forward.
AI generated content
On a final note, we have been asked about the use of AI tools to generate website content. Our stance is very clear on this matter…if you want to safeguard your traffic and reputation, don't do it!
We are in a very early phase of AI chat tools and AI content detection. Even free online tools can detect if content was likely written by AI. If these free tools can detect it, then one can safely assume that Google will be able to detect it even better.
Although the content generated by the tools may seem impressive, they are so far removed from what a good human writer can produce.
SEO is a long game. There are few quick wins. The goal is to build up a website to generate traffic and revenue for many years and to survive Google's plethora of updates and increasing quality guidelines. Using AI content tools to speed up the process is asking for trouble. Quality always suffers when you try and accelerate content production.
A good piece of content on a website that ranks well can generate good traffic, and lead to higher sales, for a very long time. It's worth investing time in getting it absolutely right at the beginning. Getting it wrong, and getting caught, can take months if not years to undo the damage.
At Artemis, we have always firmly believed in investing in great content. It's what works long-term. That's why we have exceptional and talented writers as part of our team, ensuring our clients have the best opportunity to do very well in Search.
Don't cut corners, it's just not worth it.