SEO Insights: January 2023 Report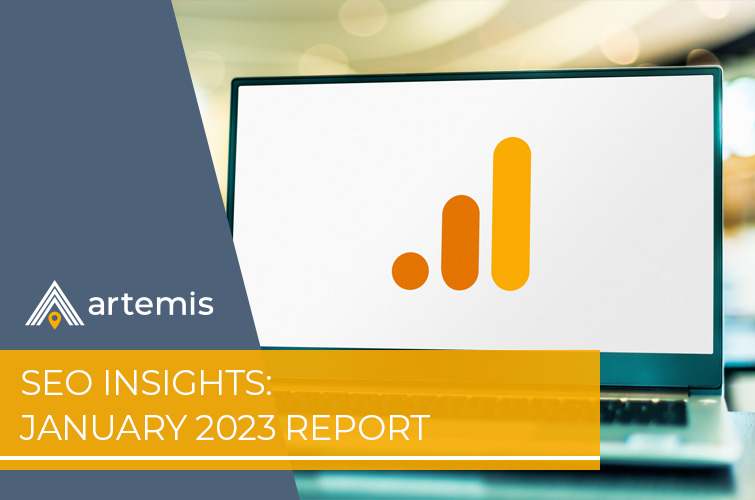 January continued where we left off last year, with a huge amount of chatter around the use and benefits of tools such as OpenAI's ChatGPT. Microsoft announced billions of dollars of investment in OpenAI with a view to very shortly integrating it into all of its products, including its search engine, Bing.
With ChatGPT having recorded the fastest ever user base growth, reaching 100 million users in just two months, it's obvious that there is a huge demand for this sort of service.
Google is testing its own AI-powered chat products including its own ChatGPT alternative called "Apprentice Bard". It won't be long before we see this somehow integrated into Google search, although Google has more reputational risk in providing inaccurate information, so it is progressing more conservatively than start-ups such as OpenAI.
How Google will integrate its AI chatbot into its search engine remains to be seen, but Google can't just change how users ultimately interact with it, as its entire business model relies on having a page of links with ads at the top and bottom.
We'll see this evolve over the coming weeks and months but there is a real battle unfolding between Bing and Microsoft to see which one best integrates AI chatbots into their search engines.
Farewell Google Analytics and Optimize
This year we bid a sad farewell to two much loved Google products: Universal Analytics and Google Optimize. Universal Analytics will stop receiving data as of 1st of July and Optimize will shut down in October.
Universal Analytics (GA) is being replaced by GA4, which is very different to GA but is designed to be able to continue gathering data in a cookie-less world. No official announcement has been made regarding what will replace Optimize, but it seems that this may be integrated into GA4. We will need to wait for further updates about this but we sincerely hope that this tool is not completely lost in future.
Make it personal
If there's one area of SEO that's going to become even more important in 2023, it's authorship. We are coming into an era where the internet is going to be flooded with AI generated content, and this content is not the same as content written by real people. Search engines are more likely to reward content with higher rankings if they can trust the source. They have to know who the author is. If the author is a known person, known to Google as someone who has expertise in a certain field, then it's more likely that this content will rank above "anonymous" content.
Google itself has just created an author's page for the Search Central Blog. Note how each author lists their own social media accounts and the posts that they have written. This is what Google is expecting to see going forward for websites. It's part of its E-E-A-T philosophy. Experience, expertise, authoritativeness, and trustworthiness. Gone are the days where you could just write an article and expect it to rank. You have to build your own personal profile as an expert in your field and make sure search engines can associate your content to you.
We're taking care of it
As always, we are taking care of all these things for our clients. We set up their GA4 accounts last year, and we will continue to use Optimize to improve website conversions until it is no longer available.
We will then transition the conversion experiments to whatever new platform replaces it. Regarding authorship, this is an area that we are actively working on across the board so as clients of Artemis, we'll be guiding you through this process over the coming weeks.
2023 is going to be a very exciting year in search and we are looking forward to maximising the opportunities for all of our clients.