SEO Insights: March 2023 Report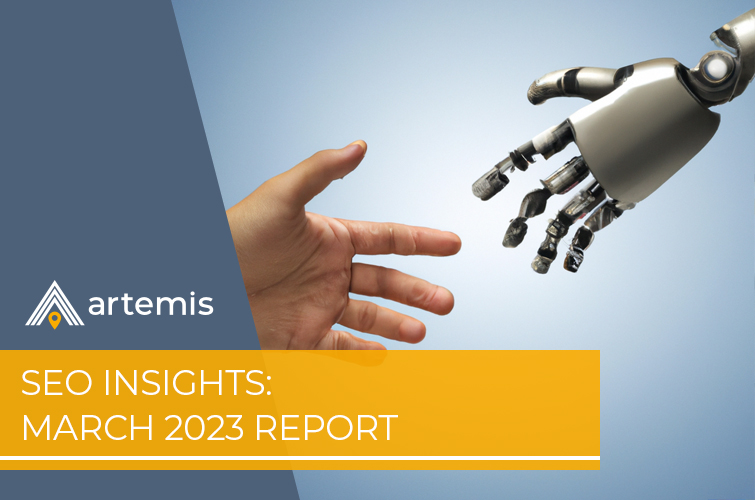 March was a busy month for Google. It rolled out a new Core Update, and it was a big one, whilst also making its AI chatbot, Bard, finally available.
March Core Update
This new update, which was announced on the 15th of March and took two weeks to fully roll out, was one of the most impactful updates that we've seen for some time.
It caused significant changes in the search results across many verticals. The update was noticeable from the very moment that it was announced, which isn't always the case, and it didn't ease off towards the end, which is an effect that sometimes occurs.
As a reminder, core updates are designed to improve the quality and relevancy of search results. Websites that lose traffic during a core update have not been penalised in any way, it's just that they may be deemed to be less relevant or useful for the related search queries.
However, during this update there were several SEOs reporting online that their websites had lost all of their traffic during the update. This doesn't tend to happen so much with core updates, so this one was definitely a lot more aggressive than previous ones.
Bard AI
Google has finally released its ChatGPT competitor called Bard, and, well, it's a little underwhelming and possibly a little late to the party. As expected, Bard is more reserved and constrained when compared to ChatGPT, and possibly even Bing Chat. Google cannot take the risk of its AI tool generating inaccurate information and advice to its users.
With the news last week that ChatGPT is to be banned in Italy, Google's approach is the correct one in that it is better controlling how and who can use it.
It is interesting to note that unlike Bing Chat, Bard does not generally cite the sources which it used to generate its responses. It opens up the entire argument that Google is using its index of the web to train its AI, but then not applying credit to those sources.
As a standalone AI chat, Bard isn't offering anything new but it will be interesting to see how this will eventually be integrated in Google Search.
Authorship
In previous editions of our monthly SEO overview, we've discussed the growing importance of the authorship of content. Coming into an era where vast amounts of AI content will start flooding the web, it's more important than ever to be able to associate content to an actual author.
In relation to this, Google quietly mentioned a new update to the search results where they will be highlighting the author of a page, when you click to view more information about a result in search:
"As we surface new voices and perspectives, we want to ensure that people can easily learn more about the authors behind the content they are reading and discover new voices they can trust. We're expanding About this result to include a new feature called About this author. Now when people tap on the three dots, readers will be able to find more information about the background and experience of the voices we surface on Google Search."
This is going to be a key area for search in an AI era. Authorship matters.