SEO Insights: May 2023 Report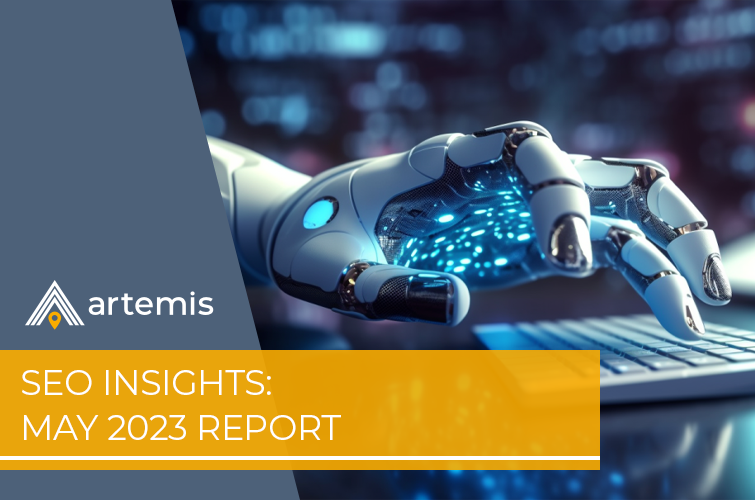 "Search Generative Experience (SGE)"; this is a new phrase that entered our world in May. It refers to Google's new implementation of AI directly in search results, which was announced at its annual I/O conference held last month.
SGE is Google's take on the integration of an AI chatbot for search, similar to what Bing launched back in February, although Google has chosen to implement their AI feature front and centre, whilst with Bing it's not integrated into the search results.
Here's a snapshot of Google SGE in action: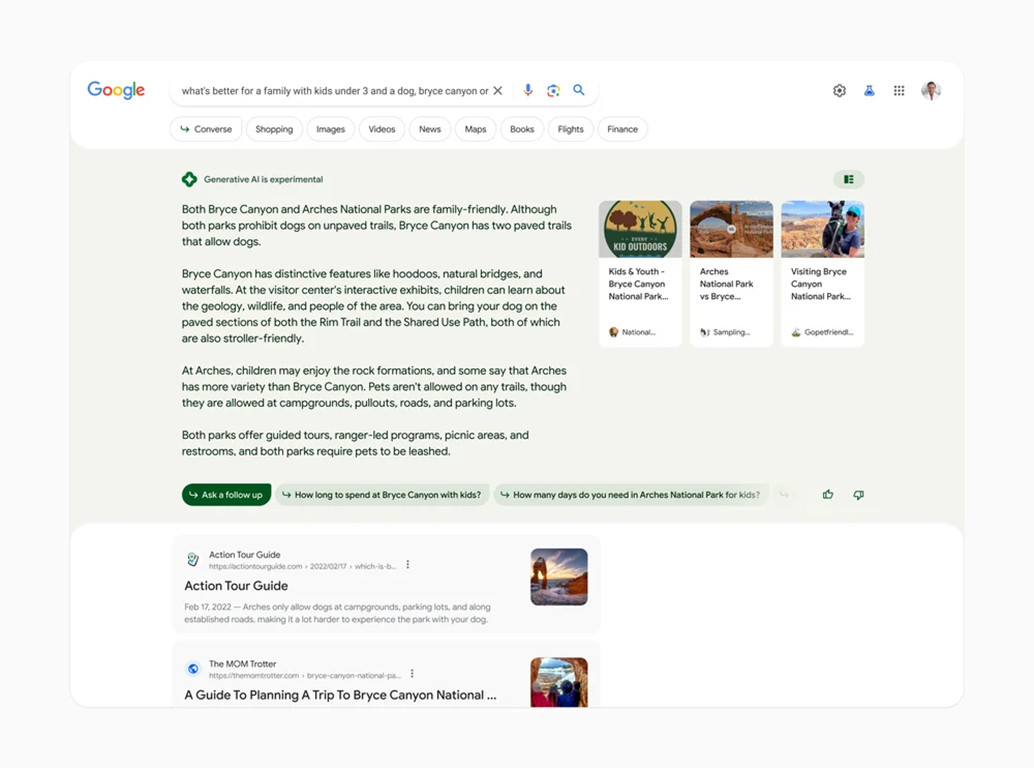 As you can see, the green area is the information generated by the AI, which includes links to resources and follow up questions.
If you're wondering why you may not have seen this yet, it's because it's currently in testing and only available via a waitlist in the US, so we'll have to wait a little longer to experience it ourselves.
Some users with early access to SGE have been sharing experiences and screenshots online. As has been the experience with all of these AI chatbots, such as ChatGPT, the answers given tend to be quite long, even for short queries. It strangely often goes against what Google has been working on for years, which is serving up short, specific answers to queries directly in the search results.
Additionally, the AI engine is a little slow to load, typically taking around 5 seconds. When Google keeps stating that pages must load within 2 seconds to be considered good, 5 seconds is a long time to wait for impatient searchers.
And, although the results are accompanied by associated resources, they are still only textual results. I assume it won't be long before they become more visual with images and videos. Users tend to scan text online and generally don't want to read paragraphs of text for a simple search.
We have recently been added to the waitlist for SGE so we'll give you our insights and opinions on it very shortly.
Ethical use of AI for SEO
The last few months have been intense. AI has become a topic that is being discussed everywhere and by everyone. It's even reached the point where the news is proclaiming the end of humanity because of it.
It's certainly something which is not going to go away, in fact, quite the opposite. It's going to impact our lives in so many ways, often without us even being aware of it. There have already been some incredible advances in medicine because of AI, and we can expect many more benefits to come from it. We won't focus on the negatives today!
As a company, we have obviously been testing and experimenting with the many different AI tools available, and understanding how and if we should or need to use them.
Our main focus is on how we can use these tools to improve the efficiency of the work that we do for our clients, with a view to being able to decrease the task times without compromising quality or creativity.
It is easy to think that AI chatbots can be used, for example, to write entire blog posts and articles in minutes instead of hours, or to generate titles tags and meta descriptions in bulk very quickly, but this is not what constitutes high quality, ethical SEO, which is what we've always been proud of at Artemis. It's only a matter of time, if it's not happening already, where Google will be able to readily detect AI generated content and penalise it accordingly.
Ultimately, quality in all aspects of SEO is absolutely essential for sustainable, long-term organic search rankings.
There are definite ways that we can use AI tools to help us speed up our tasks, and therefore, do more for our clients. For instance, we can use them to help us create redirects faster, perform enhanced keyword analysis and so much more.
How we perform certain SEO tasks will change to some degree as AI improves, but we are no strangers to a constantly evolving search landscape. We have been aware of Google's use of AI in search for some time now and have spent heavily on R&D for this exact reason. We have always adapted and stayed ahead of the curve when it comes to large-scale changes in SEO and what that means for our valued clients. We will continue to be aware of the right and most ethical ways to approach SEO to achieve long-term success and, therefore, deliver outstanding results for you, our valued clients.
We have been testing these tools for several weeks now and we'll share our ideas as to how we can use them for all our clients very soon. We will adapt and be as efficient as possible, however, we won't do anything that will risk our clients' trust and authority in Google.
We're always looking for opportunities to do more for our clients, working in an ethical way and with a long-term vision.