SEO Insights: October 2022 Report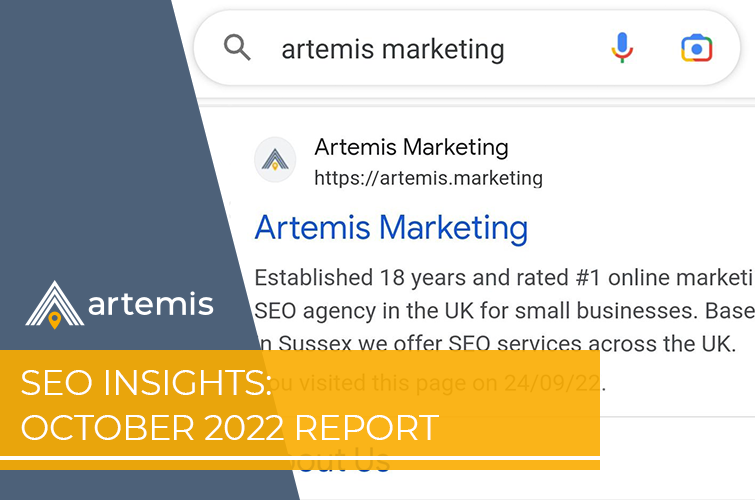 Tackling web spam, refreshed guidelines for site owners, and new search features. October was certainly a busy month for Google as it continues to take action on low-quality websites to ensure that it delivers quality, relevant results to its users. Here we explore exactly what these updates were and how they impacted websites.
Refreshed guidelines for site owners
During 2002, Google launched a set of guidelines for site owners called "Webmaster Guidelines". Webmaster Guidelines provided an overview of best practices for building and optimising a website, from Google's point of view. On 13th October, Google announced they were releasing a significantly refreshed version of Webmaster Guidelines with the new name "Google Search Essentials".
The change of name has come about because the word "webmaster" is now outdated and rarely used. With this change also came a major refresh in the guidelines themselves, which are now broken down into three sections:
Technical requirements
Key best practices
Spam policies
If you're familiar with the original Webmaster Guidelines, there won't be much that's new to you. But it's still worth understanding what Google expects from websites in order to be featured in the search results.
You can read the new guidelines here: Google Search Essentials.
Google releases October 2022 spam update
On the 19th October, Google announced the release of the October 2022 spam update.
The rollout of the update was completed in less than 48 hours, which is very quick for a major update release. The previous spam update, released in November 2021, took eight days to roll out. This is a global update that impacts all regions and languages.
The update is designed to penalise websites using spam techniques that go against Google's spam policies. Google will periodically refresh this update and it can, therefore, take many months for a website to recover if it has been impacted by the update.
Initial observations have highlighted that many low-quality sites have been severely impacted by the update, so it appears to be having the expected effect. At the same time, it doesn't appear to have impacted legitimate, and good quality websites, which is great news and something that hasn't always been the case with aggressive Google updates.
Introducing site names on Google Search
Google also announced a change to how they show site names in the search results on mobile. The change has been made to make it easier to identify the website that's associated with each result. You can indicate your preference for your website's site name with structured data on the homepage, although Google will also try and determine what it is by itself if this mark-up isn't available.
As you can see below for a search for "Artemis Marketing", rather than showing the title tag for the homepage, which is what it has generally always used, the search results now show "Artemis Marketing" as the page name:
This is unlikely to make much difference in terms of traffic and click throughs from search, but we will continue to monitor the effects of this change over the coming weeks.
For any future Google announcements on algorithm updates or any helpful Google updates please keep a close eye on our blog or get in touch to speak with one of our SEO experts.