The Importance of Managed Hosting for Small Businesses
With brick-and-mortar retail shops being forced to close, the coronavirus pandemic has encouraged a wave of small businesses to turn their attention online and many have been launching new websites.
Unfortunately, lots of small-business owners are unaware of the security risks they are exposing themselves to if they do not invest in a proper managed web hosting plan for their sites.
Whether eCommerce or service-based, as the number of online businesses rise, so too does the risk of web-hacking.
So, let's take a look at why managed web hosting is vital for the protection of your website.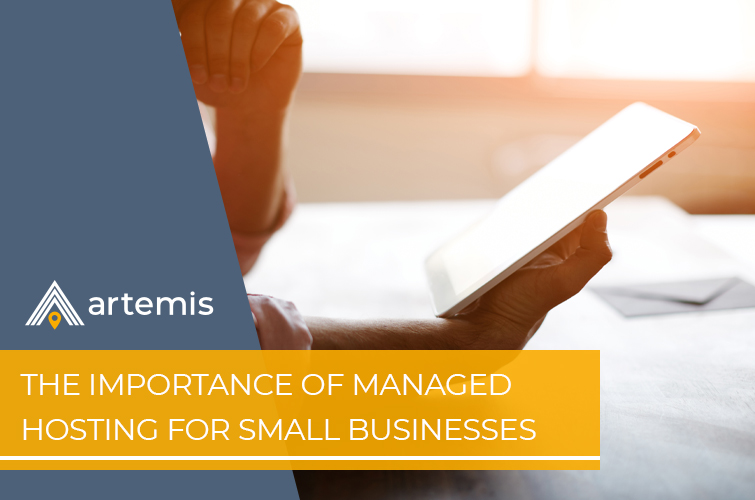 What are the benefits of Managed Web Hosting?
Not every small business owner has the time, nor technical knowledge to look after and update the back end of their website properly. But without the correct security measures, your website will have no defence against the risk of hacking (which can cost thousands to clean up and hugely impact your Google rankings as well as customer trust).
To protect your website from malicious attacks and keep it secure, it's essential to find a knowledgeable and trustworthy managed hosting provider who will manage your website on your behalf.
Here are just a few ways Artemis' fully managed hosting solution provides peace of mind for clients:
Clever Monitoring Software
We monitor your websites 24/7. As soon as your website framework or any plugins need updating or a threat is detected, we are notified immediately. This means we are able to proactively protect your site against any security threats, and prevent any unnecessary downtime.
Better Security
Like phone apps, your website requires frequent updates to keep it secure. The more complex the site, the more updates it will need. We will handle all necessary software and plugin updates to remove any vulnerabilities on your site which could be exploited by hackers.
We also offer additional security services such as IP blocking, spam filtering, anti-hacking software and firewall protection.
Automatic Backups
With our fully managed hosting solution, we take multiple offsite backups of your website every day.  If the worst does happen, you can rest assured that we can get your site back up again in minutes.
Why Artemis?
If you want to maximise your website's stability, security and performance, managed hosting is key.
Here at Artemis, we use a leading UK-based hosting provider with a UK IP address to give our clients a secure hosting solution fully optimised for WordPress and Google's best practice speed algorithms.
With 24/7 uptime monitoring, daily back-ups and real human support, you can rest assured that your website is in safe and knowledgeable hands. If you would like to learn more about our managed web hosting service, get in contact with us today.