Why Branching Out With Blog Content Could Cost You
If you think being creative with your blog content will only bring about good internet marketing results, you might be left disappointed. A lot of people have various different topics that they would like to include on their blog but it turns out that Google could penalize you for branching out too much.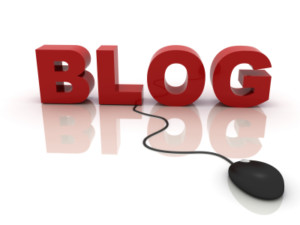 We don't all have incredible amounts of knowledge about various topics, so we can usually slip by this particular issue without incident. However, some of us have looked to make the most of some inspired guest bloggers to get our content noticed elsewhere and this is where Google will look to take action.
It seems there's no way round it either. If you're attracting attention from guest bloggers, you'll probably need to consider losing links back to their page. Of course, you'll have a tough time persuading guest bloggers to contribute if they aren't getting anything beneficial for their blog or profile in return.
The issue has come to light after SEO Twitter user DocSheldon responded to Matt Cutts regarding his website being penalised for using topics that didn't match his websites usual content. Cutts argued that Google's manual webspam notice was "on point" when issuing a penalty to DocSheldon because Google are ultimately trying to knuckle down on spamming.
So what if the content on blogs, however far from their usual topic, is perfectly legitimate? It seems that Cutts was trying to defend Google's webspam-fighting techniques by pointing out that DocSheldons guest blog post had nothing to do with his "SEO copywriting blog", even though it arguably had a lot to do with it, as the Twitter user pointed out: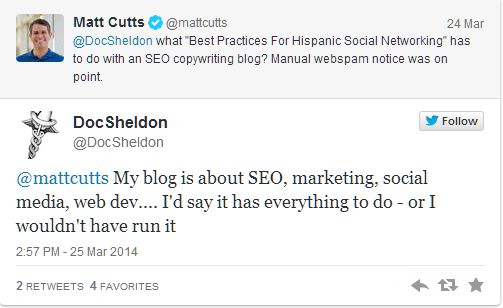 So it seems the only answer is to try and focus your content on things that actually relate to your site, but you certainly can't be blamed for trying to branch out a little and make the most of useful connections between two or three different topics.
It's up to us to decide whether or not Google are being far too strict with this whole guest blogging situation and, judging by Cutts' responses on Twitter, a lot of people might share that opinion.