Boost Your Conversion Rate with 5 Simple Website Changes
It goes without saying that conversions via your website are vital, but many websites skip simple tricks to boost their conversion rate.
Before changing your website, you'll want to understand and measure the levels of enquiries your website currently generates by setting up tracking. You can do this by setting up goal tracking in Google Analytics (ideal for contact form tracking). For email and telephone numbers, you can use Google Tag Manager.
1) Include Telephone and Email Links in your Header
Make it easy for potential customers to find your contact details by including your phone and email details in the head of your website. Ensure these are clickable. With some basic HTML coding, you can set up click-to-call and click-to-email in minutes.
For click to call use the HTML example below:
<a href="tel:+441444645018″> 01444 645018</a>
For UK numbers, always use the country code +44 after tel: as this ensures your click-to-call phone number will work internationally.
For click-to-email use the HTML example below:
<a href="mailto:info@artemis.marketing">info@artemis.marketing</a>
2) Contact Forms
Including a contact form on your website gives potential customers the opportunity to get in touch there and then. These are fantastic for businesses that provide quotes or need to understand requirements of their client before purchase.
For WordPress users, Gravity Forms provides a user-friendly form builder with features that include email auto-responders and a selection of 30+ form fields, although it's important not to get carried away with the field options. Try to limit your contact form to vital information. For many this includes the name, email, phone number and comment box. The fewer elements a potential customer has to fill in, the better.
Add a contact form to your contact page and your most popular landing pages. Careful integration of contact forms into your design can work wonders to your conversion rate, making it easy for potential customers to find.
3) Calls to Action (CTAs)
A Call to Action spurs potential customers to take the next step, whether that is adding a product to the shopping basket, reading more, or submitting a contact form. You'll find many businesses have become creative with their CTAs, combining their unique selling points to create CTAs potential customers can't help but follow.
Netflix, for example, demonstrates this perfectly. "Watch anywhere, cancel at any time. Join free for a month."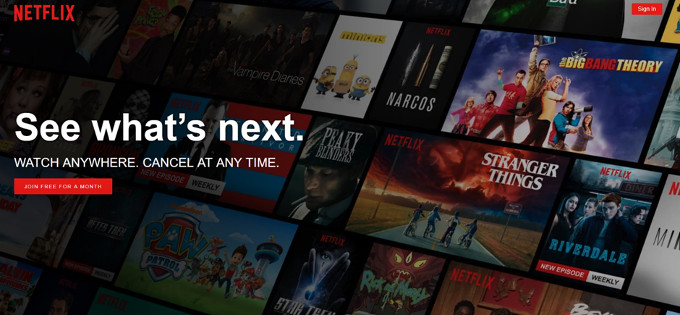 4) Offer Proof with Reviews
If you already have a number of reviews on a third party site, you'll likely have the option to embed reviews on your website, just like Trusted Shops demonstrate. This is a quick way of adding reviews directly from customers to your website.
If you don't already have reviews stacked up on a third party site, it's never too late to start. For more immediate application, you can use snippets of the thanks and positive comments you've received from customers in emails or letters. This often works best when you can provide a case study about a customer's experience of the service or product they received.
5) Unique Selling Points
There's no doubt that hidden in your content somewhere on your website are some unique selling points, but they are no good to you unless you make them stand out. Applying your USPs as a heading or enlarging the font size and weight of your unique selling points should be the absolute minimum.
Try embedding the USPs into the design of your website and if you really want to show off your USPs, always place them above the fold.
A few ideas to get you started.
John Lewis

Secret Spa

Ryman Stationary

Final Thoughts
Remember, always measure your changes through event tracking. This will allow you to understand what contact method your potential customers prefer, what CTA they respond to best, and what page and device they are converting on. Collecting this data will help you to continue making the right conversion rate optimisation to your website.
Get the Support Your Website Deserves
If you need further support with your conversion rate optimisation, we've got many more tricks up our sleeve. At Artemis, we work closely with our clients to understand the desired customer base and create unique strategies to suit you and your website. Get in touch for a free consultation to discuss our technical, conversion rate and opportunity reports.