Can't Rank Won't Rank? Maybe The Problem Is The Domain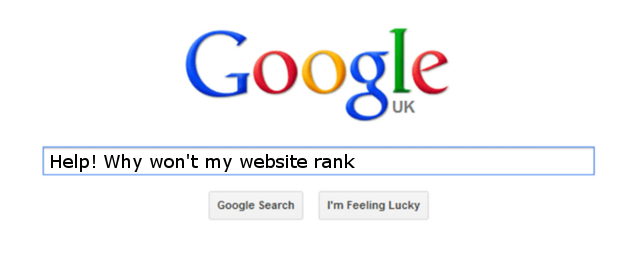 "I don't understand why my website doesn't rank for my main terms, it's so much better than all those other rubbish websites that Google is ranking instead."  Of course, everyone believes that their website is the best but far too often we come across websites that just can't seem to rank at all, no matter what you do to them or how good their content may be.
One of the toughest parts of the role of an SEO is not to get a website ranking but having to try to explain to a client why his/her website isn't ranking and is unlikely to; the worst part being that sometimes we just don't really know the exact reason.
Google uses over 200 different signals to evaluate where pages should rank for a given search term.  Additionally it frequently rolls out additional algorithms, such as Panda, Penguin, PayDay Loans to target particular spam or search quality issues.  There are so many factors that come into play to make a page rank that sometimes it's not easy to tell exactly why one page ranks better than another.
What we often tend to find is that some domains are untrusted and these are unlikely to be able to rank highly in Google search results in the short-term, no matter what you do.  Manual and algorithmic penalties are supposed to have an expiry date but it could be years from now and most businesses can't wait months let alone years to enjoy the benefits of good Google rankings.
We still have test websites that were penalised 4 years ago and today they are still not ranking.
Trust me, I'm not a link spammer
By far the biggest cause of lack of trust in a domain is if it has a very low quality backlink profile.  This can take the form of hundreds of bookmarking links, links from low quality directories, links from other untrusted sites or a very keyword heavy anchor text profile to cite just a few examples.
When a new client comes to us with a website which has this type of link profile, which is far more common than it should be, we have to make a decision as to whether we think the website has been flagged as "untrusted" and whether it would be best to start again with a new domain.
You can run some simple tests such as optimising pages in a certain way and seeing if the corresponding change in the rankings matches expectations, but ultimately the domain may be flagged as untrusted by Google and therefore the effort to get it to rank well may far outweigh the effort required to achieve good results with a new domain.
All is not lost with a new domain
There is always a lot of resistance from businesses when it comes to changing a domain name, for various reasons, but from a search rankings point of view you can start with a new domain but you aren't necessarily starting from scratch.
You can't just redirect an old, untrusted domain to the new one as you will just pass across the low trust signals to the new domain.  There are ways around this and it's important to ensure that the new domain remains completely clean and independent of the old one.  Changing signals that tell Google what your new website address is such as Google+, local directories, business listings, etc., will help to accelerate the ranking of the new domain.
The clean-up operation
Over the years I've spent huge amounts of time cleaning-up websites to get them ranking again.  Cleaning up bad backlinks is very tough and although you can disavow links with Google, the process is far from guaranteed and Google can choose to accept or ignore what you put in your disavow file.  The Penguin algorithm flags websites as untrusted if they have spam backlinks.  The only way to recover from this is to clean up the bad backlinks and wait for Penguin to run again.  Seeing as it hasn't run for over a year that's a huge amount of time for any business to be struggling in Google search results.
If the issue is poor quality content or too many cookie-cutter pages (this is pure Panda fodder) this can also take a long time to correct and the efforts can take even longer to realise in search results.
Time is money and going through a clean-up process is generally very time-consuming and with no guaranteed outcome.
Sometimes it's just best to bite the bullet and start afresh…a solution also stated by John Mueller (Google engineer) in this Google+ post: