Google Holiday Logos
As the holiday season swiftly approaches, everybody is getting ready for the big day by stocking up on foodstuffs, buying and wrapping the gifts and decorating the house. Regardless of what you choose to celebrate this December, no doubt there will be some form of decorations in your house, be they a simple wreath on the door or a full on head to toe light extravaganza.
So we come to the Search Engine giant Google. For several years, almost since the beginning of the internet, the Google logo has been an iconic symbol recognised by millions. For certain events and festivals throughout the year the good people at Google redesign the logo to accurately portray whatever special event they want to draw attention to. And now as we wait with bated breath at what Google will think of for this year's Christmas count down, it would be nice to have a look at some of the best Google logos in December.

A simple, yet effective logo. Not much is changed in this traditional Google logo from December 2001, but a small family of polar bears are happily working away, dressing the letters of Google with colourful Christmas lights.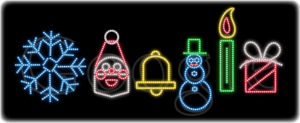 This logo is from 2011, and it seems to have been done in a Christmassy 'Wingdings' style of font reminiscent of the bright light up boards you see in big cities like London, New York and Tokyo. If you look closely you can see the faint outline of the word Google, behind the decorations.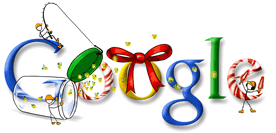 Part of a Christmas line up for 2007, first 'o' and the 'e' of Google have been replaced with candy canes and a couple of little helpers are busy freeing fireflies from a makeshift lantern. To top it all off, the second 'o' is decorated with a festive bow.


Google's name in lights! Shying away slightly from the traditional logo, Google is designed here to look as if the coloured lights are bursting from the letters themselves, powered by the helpful mouse and his fox friend.
Personal Favourite



This Google logo was done as a series of images in 2003. It shows a snowed in Google, slowly being uncovered by a couple of snowmen.


The second 'o' is then ruthlessly stolen, leaving the snowmen creating a makeshift 'o' by rolling the surrounding snow into a ball.


It is not a complicated story, yet its simple, light-hearted content is really reflective of Google as a company, a tool created to help others and bring information together.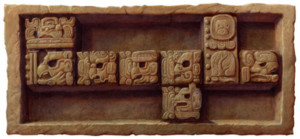 Special Mention
As a little nod to the supposed apocalypse that was foretold by the Mayan Calendar ending on 21st December 2012, this logo was designed in the style of the calendar on that day. Ironically if the world had ended, nobody would have been around to see Google's artistry at work!
So there, a short collection of some of Google's finer exploits in the month of December. Happy searching folks and happy holidays!