Is Google Planning Something Robotically Revolutionary?
In the past year the Search Engine giant has been methodically buying robot makers, supervised by Android developer Andy Rubin. Recently Google has also bought out Boston Dynamics, makers of the 'world's fastest four legged robot' the Cheetah, which is said to reach speeds of up to 29 mph. Both Google and Boston Dynamics have declined to comment on this new deal, leaving us of the internet and worldwide to wonder, why?
Google has long been one of the companies leading the modern world, and Andy Rubin's last project; Android, took the world by storm as a valid, competent operating system competitor to Apple's dominant iPhone ecosystem. It has become plain to see that this is not just a side project, as Google has invested quite a lot of money into robotics companies, and big names such as Ray Kurzweil – a leading articifial intelligence and engineering expert – in the past year.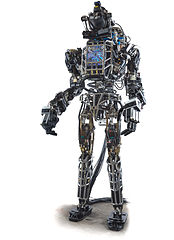 Boston Dynamics are an innovative Robotics Company established in 1992 that have worked with several large companies, such as Sony, and are contracted with the US Military. It originally focussed on computer intelligence and simulation systems, but later specialised more and more into dynamically moving systems and artificial intelligence.
So what is it all for? There have been suggestions that Google is planning on focusing on the automation of delivery services like Google Shopping Express in order to compete with retail giant Amazon. Possibly in the future, Google has plans for a fully automated packaging and delivery system, with a robot delivering your package straight to your door! From recent announcements made by Amazon and their progress in the field, it certainly looks to be heading that way.
Currently Google Express is lagging behind retail giants such as Amazon and eBay in terms of content and experience, but this new step towards using artificial intelligence could make a lot of difference in the years to come.
Or is it something slightly more sinister? Now that Google has conquered most of the viral world will it take that step forwards and attempt to conquer the physical world? If that is the case, Google certainly has competition.