Learnings from Google's January 2020 Core Algorithm Update
Google has had a busy January making significant changes to its algorithm and search results. As large updates are usually not implemented in the run up to Christmas, January is often the month where we see quite a few changes in the search results. Here are the three main changes that have happened in January:
Core Algorithm Update
Google makes regular updates to its core algorithm but the one in January was quite a large one, resulting in significant changes in search results across the board.
There are no details of what the core algorithm change was focused on, these are never released by Google, but the update has very positively benefited Artemis clients' websites. Our initial assessment of this update is that it is focused on content quality and better rewarding content that deserves to rank higher, due to higher relevancy, accuracy and presentation, but which may have lower PageRank authority than other websites targeting those same key phrases.
New Desktop Search Results Appearance
In 2019 Google changed the look and feel of the mobile search results to include a favicon for each listing and placing the web address (brand) above the page title.
In January Google copied this same set-up across to the desktop search results. This layout may work well on mobile screens but for desktop it does not work well at all.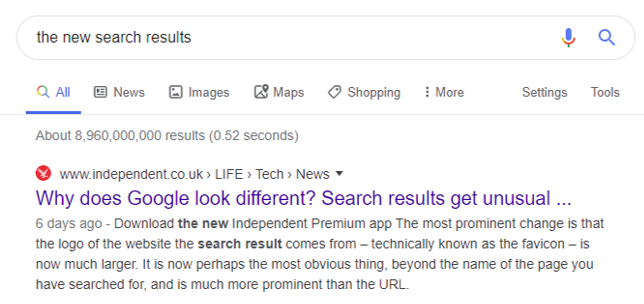 The new desktop results were so poorly received that the backlash caused by this change prompted Google to make the unprecedented move of admitting that maybe it wasn't the best update to the interface and that they would begin to experiment with further alternatives.
We have now already seen the favicons removed from the desktop search results and we can expect further changes over the coming weeks.
Featured Snippets
A featured snippet is presented in the search results when Google's algorithm believes that an enhanced result may be very useful to the user based on the search query entered.
Ever since the feature was introduced, a website could enjoy two listings on the first page of the search results: The featured snippet and the organic search result itself, for example: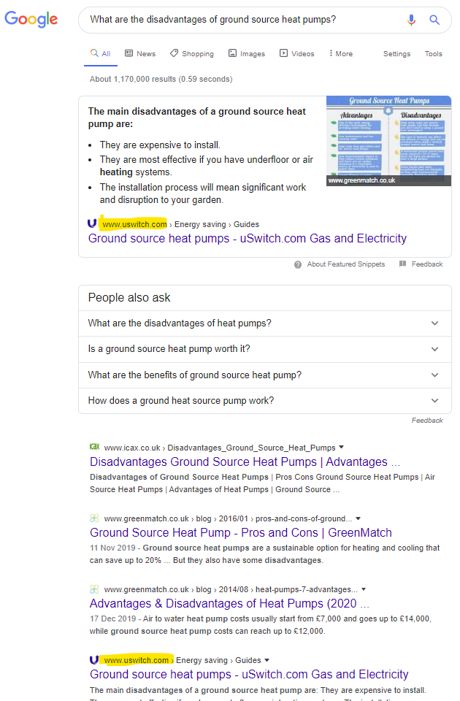 This double listing was often deemed unfair by many and in January Google changed this set up so that if a website had the featured snippet, the same page would not appear again in the organic search results.
This change has advantages and disadvantages. If a listing had a featured snippet and a first place organic listing, this update will result in a loss in traffic as now there is only one opportunity to click through to that page. However, for those websites that rank low on the first page of the results, to get the featured snippet is a way of getting to the top of the search results without needing to be first organically. There can only be a traffic increase in this scenario.
As with all changes there are always winners and losers. The latest changes have been very positive for Artemis' clients and it is a reflection of our constant attention to detail, optimisation refinement and very high-quality link building activities. We expect the Artemis approach to SEO will continue to have an increasingly positive effect on business for all of our clients throughout 2020.
If you would like to learn more about Google's updates and how Artemis can help your business stay ahead of them, please get in touch with our experienced team today.