The Three Pillars to a Successful Google My Business Profile
When looking to improve their SEO, many businesses focus solely on optimising their website. Whilst this is hugely important, it is far from the only way that businesses can improve their search rankings. There are other extremely valuable opportunities to rank locally, namely by optimising your Google My Business (GMB) profile.
GMB is Google's business directory, containing information about businesses ranging from their address and contact details to specifics about how they operate and the products or services they offer.
Creating and maintaining a strong GMB profile is a sure-fire way to increase your online local visibility.  Many factors impact how successful your Google My Business profile is, but we've narrowed it down to three: Proximity, Relevance, and Trustworthiness.
Here we take a look at the three pillars of a successful GMB profile and what you can do to maximise your business' profile.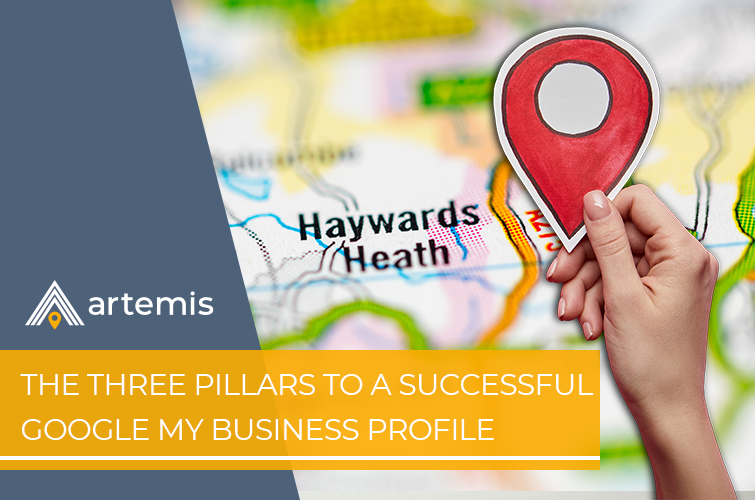 Proximity
GMB is most important as a function of local search. Customers are more likely to use businesses in their vicinity – so it is vital that your GMB profile is centred around your physical location.
There are a variety of ways to focus on proximity within your GMB profile – of course, a huge part of this is ensuring that you have the correct address and postcode in your GMB listing. It might seem obvious, but inconsistencies here can create problems, not to mention confusion for your customers.
Now it goes without saying that you can't pick up and move your storefront, but companies that offer a service frequently operate in a wider geographical area than what is listed as their core address. By specifying this radius in the service area section, businesses can improve their chances of ranking for prospective clients further afield.
Relevance
Your GMB profile must show good relevance to the search topic – if you are offering hairdressing services, you don't want to be ranking as a local restaurant. To increase relevance, optimising your GMB profile is key.
It is important to consider the most suitable categories that define your business – take the time to go through the available categories to make sure that you are using the right ones. It is also worth adding products if you are an eCommerce business, or services if not.
You can also show your relevance to the specific search queries via writing a high-quality company description that really sets out the niche of the market you operate within, as well as the industry as a whole.
Trustworthiness
Unsurprisingly, the more positive reviews a business has, the more they will develop trust with potential customers. And this has a snowball effect. According to Brightlocal, 87% of customers now read reviews on local businesses. This indicates that they are a significant factor in the consumer decision-making process – and should therefore be a vital part of your GMB profile.
Another way to develop trust is by adding personal images to your GMB profile. Are you a local restaurant? Add images of your seating area and the food you serve. Are you a construction firm? Add images of your team along with before and after images of projects you have carried out.
According to Google, listings with photos receive 35% more clicks through to their website than those who don't. So whatever it is that makes your business unique, showcase it through your images.
Our seasoned SEO professionals are leveraging GMB for our clients. To get the most out of your Google My Business profile, get in touch today.