5 Things You Can Do Today to Improve Your Local Search Rankings
If you're a small business, it can be hard to make people aware of your brand and services. How can you compete with larger businesses with a more established following and a larger marketing budget? The answer is with online marketing – more specifically, local SEO.
What is local SEO?
Local search is when a customer searches for a business, product or service within a specific location. For example, if you're looking for a plumber, you'll be seeking out local businesses who serve customers within a set radius. Likewise, if you search for 'hairdressers near me', the results will be tailored to your location.
Local SEO is the process of optimising your online visibility, so you appear in these local search results. It's beneficial because it builds trust and online visibility, but also brings more targeted traffic to your site which improves conversions.
1. Create a Google Business Profile
Your Google Business Profile is one of the most critical elements of any local SEO strategy, because it's one of the top factors Google considers when ranking businesses in organic search listings. It's free to create but highly effective, and you can include all the details of your business for customers, from your physical store address, opening hours and location on a map to your industry, contact details and photos of your business.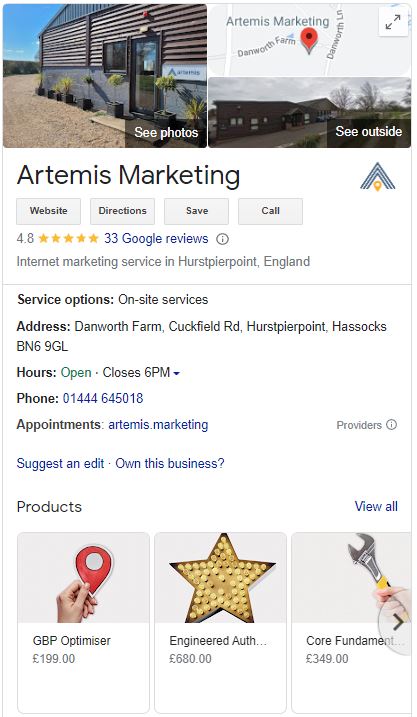 2. Submit your business to local directories
 Listings can be linked back to your website, so they're an effective way of driving more traffic. Providing your business details to local directories helps to create an identity for your business, which can improve your SEO significantly. Just make sure that the information you provide is consistent across all listings, and choose niche directories that will add real value to your company and send you the right type of referral traffic.
3. Build citations
Local citations are any mention of your business' name, address or phone number online. They can appear in business directories or on social networks, but it is generally accepted that they're a strong ranking factor for local SEO. Citations verify the existence of your business and build trust and legitimacy, and if Google finds the same information cropping up in different places online, it increases confidence that the business is genuine.
4. Optimise your site for your target niche
Writing for users, rather than search engines, enables you to create useful content around your target industry and focus. And by honing your focus on the local area, you're more likely to attract a local crowd. From industry gatherings and news to trends and informational content, you can develop a reputation as an industry expert in your local area.
The more content you create, the more opportunities you have to optimise those pages or blog posts for targeted terms. Every time you post a new piece of content to your site, make sure you're including relevant keywords in the URL, title, body text and meta description to appeal to your local audience and Google.
5. Create geo-targeted pages
 Creating location specific pages covering areas that you offer your services in can be a great way of providing your readers with your contact details, information about promotions and local services, and testimonials from other happy customers whilst increasing the visibility of your business in our local area. They serve to enhance your local SEO efforts and provide a great vehicle for location-based keywords and phrases. You might have a brick and mortar store you want to attract local traffic to, or maybe you're a business with multiple locations – geo-targeted pages can be great in both cases for growing traffic and visibility.
These are just a few of the ways you can grow your local search rankings and bring in targeted customers to your business. Bear in mind that your local SEO efforts can also span multiple locations, so make the most of your SEO efforts to build your online visibility in specific locations.
We're experts in local SEO and provide a wide range of services to help you build your business online. Get in touch with us today to find out more and develop your local SEO strategy.