What 2023 Has in Store for Digital Marketing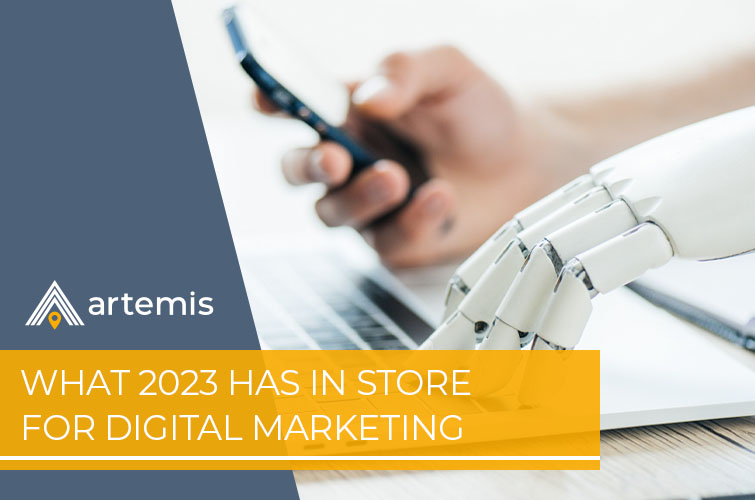 Now that 2023 is underway, businesses are mapping out their plans and priorities for the year ahead. But to really hit the ground running, it's worth incorporating the latest marketing trends into your strategy for bigger results. This is what 2023 has in store in the digital marketing field and what to pay close attention for in your own marketing plans.
Customers want personalised content
Consumers want results that are local to them when they search. While this has been an ongoing trend for some time now, in 2023 the focus will extend to include personalisation and customisation. Marketers need to ensure that content served up to customers is not only optimised for local search but also customised to previous interactions.
Using customer data to develop personalised recommendations and tailored content will be key this year, in addition to providing omnichannel experiences that enable a unified customer journey on all channels, platforms and devices.
The rise of ChatGPT and AI-based tools
Artificial Intelligence has become the topic of the moment in the digital marketing sphere, and while other tools exist, there's no denying that ChatGPT is leading the way. This free tool accepts text prompts to produce outputs in any style, from questions and answers to text summaries and conversational AI.
It's a tool that changes the marketing landscape and with the introduction of GPT-4 in the spring, which is rumoured to significantly outperform GPT-3, it's prudent to keep a close eye on the impact this will have on Google's business model moving forward.
Short-form video over long-form content
Our viewing habits are changing and what audiences want now is short-form content that's easy and fast to consume. YouTube Shorts has over 1.5 billion monthly active users, with over 30 billion daily views, and TikTok remains the top player in the social media sphere.
It offers a huge opportunity for digital marketers to leverage storytelling and create engaging content with which to connect with their target audiences.
Purpose-led marketing matters more than ever
Customers want to work with ethical companies and being open about the ethics behind your brand and your marketing goes a long way to building a loyal customer base. If you want to have an impact with your marketing this year, make sure it's purposeful and informed by your brand values.
In 2023, a leading trend will be the theme of community and connecting on a deeper level with your audience, and purpose-led marketing is an effective way to achieve this authentically.
Conversational marketing to create an immediate connection
Customers want answers to their questions straight away, yet businesses need to nurture customer relationships. The solution is conversational marketing which will be a big trend in 2023.
This technique incorporates instant messaging and conversational flows into your marketing strategy, providing solutions and answers to customers immediately, no matter the time of day, and get the assistance they need instantly. It frees up team members in the business to work on other tasks while still ensuring that you're providing a great customer experience, which encourages customer loyalty and increased conversions.
2023 offers countless exciting challenges for digital marketers, with a wide variety of trends to experiment with. As Google evolves its algorithms and technologies progress, marketers need to stay flexible and adapt their strategies to keep up with the changing landscape.
We stay up to date with the latest best practices to ensure the very best results for our clients. To learn more about how our digital marketing services can enhance your business, contact us today.