SEO Insights – February 2021 Report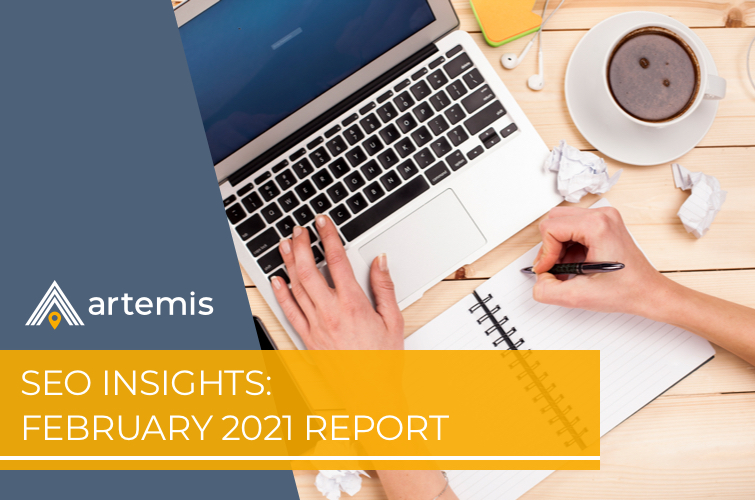 February has been a fairly quiet month with no major updates from a SEO perspective. There is no rest however, as we have to continue constantly improving and adapting websites to better match user search intent and keep on top of Google's constantly evolving algorithm.
In contrast, the big news of the UK's roadmap out of lockdown has resulted in changes to the way users are searching and what they are searching for. This impacts traffic and enquiry volumes across many industries; a trend we've seen with many of the Government announcements around the tightening and easing of restrictions.
This month we explore some of the top conversations in focus including Google's upcoming Page Experience Update, the importance of quality links and extra features on Google My Business.
Page Experience Update
Google has announced last year that the Page Experience update would begin its roll out in May 2021. As we draw closer to the date, we've been finalising our checks to help ensure your website delivers on the key areas of focus.
The update is going to re-focus on a number of features that have been important to Google for some time. These include the speed a page loads, the amount a page moves around as it loads, and the time it takes before a user can interact with it.
Additionally, the update appears to put more focus on ensuring sites are fully secure, mobile friendly and have no intrusive interstitials (basically a fancy phrase for bad popups).
As the name of the update implies, Google is attempting to create better page experience for users.
The importance of quality links
Another interesting comment came from Google's John Mueller.
The announcement confirmed something that we have suspected for a long time: the total number of backlinks pointing at a website isn't important. What matters is the quality and relevance of each individual link.
This means that getting one extremely high-quality link is more valuable to your site than getting a hundred low quality ones.
Our Content and Outreach teams have been working to this principle for a long time; focusing on achieving only the highest quality links for our clients' sites.
Updates and changes to Google My Business
Google My Business (GMB) has become a vital tool in terms of Local SEO.
With shops, restaurants and other location-based businesses looking set to re-open in the coming months, it's important as ever that your GMB listing is update accurate and provides helpful information.
This being the case, we'll be making a great effort to ensure that our clients' GMB profiles are updated with relevant information – especially regarding opening hours and other attributes influenced by Covid-19.
A new release is messaging via desktop. No longer restricted to the app, you can offer customers the ability to communicate through GMB online messaging from the comfort of your computer or laptop. Need help getting this setup? Please get in touch with us today by calling 01444 645018.