The Value of Quality Content in Improving Rankings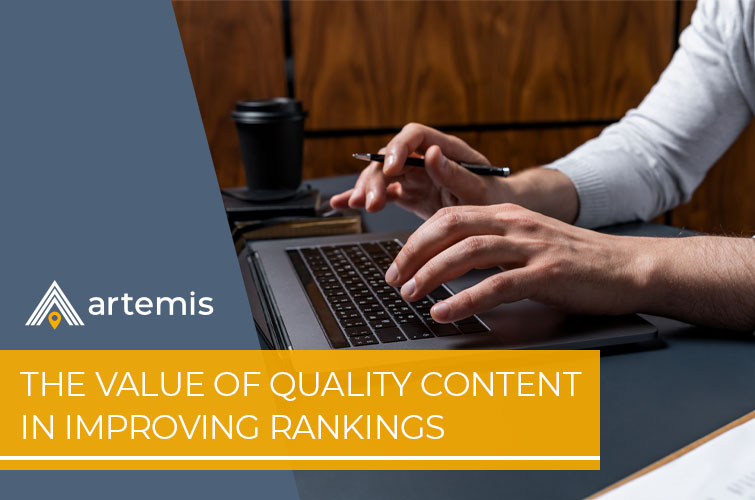 Content should be an integral element of any SEO strategy – they are very much connected, and one complements the other. High-quality content is a key driver of increased traffic and better search rankings. Without it, you cannot realise the full potential of your SEO strategy.  
Google rewards quality content, and search rankings are no longer limited to just the keywords you use. Your website content is assessed by how relevant it is to the user's query and a host of other parameters, from author expertise to freshness signals. Striving for quality can help you tick off these core metrics and have a positive effect on your rankings.  
Here we have two examples of how we have enhanced the content on our clients' sites to make the content more valuable to users. 
Introducing high-quality pages to the site
The challenge
Our client, a luxury swimming pool company, had existing content throughout their site, both on product pages and on their blog. But many of these pages only had minimal written content which did not go into enough detail to be valuable to the user.  
What we did 
As always, we audited the pages to identify opportunities for on-page improvements, such as developing internal linking campaigns and targeted on-page optimisation to help navigate users to priority pages for the client. Despite this, in isolation, these techniques were not having the desired impact, and we knew why: the current content on the site simply wasn't good enough to fulfil Google's requirements.  
We assessed the site for the key pages that would have the biggest impact and looked at ways we could enhance the content, whether that was expanding the existing content or rewriting the page to make it more relevant to the users' search queries.  
These pages were thoroughly researched to create useful, informative content that targeted important product pages on the site, with relevant search terms to answer the questions customers were asking.  
The outcome 
Our client saw a significant improvement in the performance of their core pages, with an increase in traffic and ranking positions. Expanding the core product pages to make them more informative, focusing on the types of questions potential customers may have, helped us to build authority for the client in the eyes of Google.  
We made sure that the content on the site was audience-centric and followed Google's recommendations for high-quality pages to showcase the clients' expertise in the industry which, in turn, increased their site performance and rankings. 
Removing low-quality pages
The challenge
When one of our clients, a luxury estate agent firm, came on board with Artemis, they had a bloated site with lots of duplicate content and numerous low-quality pages. Since link value is shared across the site, these low-quality pages were diluting the overall authority of other pages on the site and impacting rankings in the process.  
What we did
Website bloat (when websites have excessive low-value pages with poorly written content) slows the site down and impacts the number of pages search engines crawl and index. This can result in undesirable pages being included in the search results or important pages being excluded. 
To combat the issue, we conducted a sitewide audit of all pages to identify those low-traffic pages that were not performing well. These pages were deleted and, where appropriate, redirected to make way for higher-quality pages that would add value to the site.  
Once we knew that the low-performing pages had been removed, we focused on adding bespoke, unique content to area pages. We chose the areas that would be the most useful to potential clients looking to move to the area that our client specialises in.  
The aim here was to ensure that all content throughout the site added real value for the user, which in turn would help to establish our client as an authority on the subject and build trust.  Keeping the pages on the site curated helps direct search engines to the URLs we want visitors to find. 
The outcome
Removing insignificant and low-performing pages from the site helped to drive more traffic to the pages that were valuable to prospective clients. We wanted to ensure that the client's site was a useful resource for visitors.  
This audit helped to ensure that every page on the site was relevant, and identified opportunities to rank higher by publishing new, informative content so that our client could stay on top of Google's algorithm updates.  
At Artemis, we have extensive experience helping our clients improve their rankings and online visibility, whether through on-page optimisation, content audits, developing high quality content or a combination of trusted techniques. If you'd like to benefit from a bespoke SEO strategy, why not contact our team today to discuss?